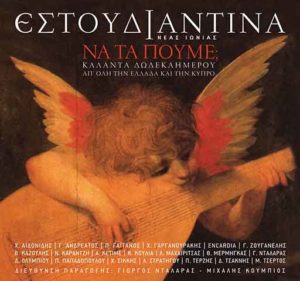 Christmas carols from all over Greece, in an album produced by Michalis Koubios and Giorgos Dalaras that was released by VETO in 2009. Estoudiantina presents 17 Christmas carols, all deriving from different areas of Greece. Numerous distinguished artists from various music backgrounds perform disinterestedly in this album. Chronis Aidonidis, Charalabos Garganourakhs, Areti Ketime (folk music), Babis Tsertos (rebetiko), Lavrentis Machairitsas and Dionisis Tsaknis (rock music), Gerasimos Andreatos and Giannis Zouganelis (entechno), Pitsa Papadopoulou, Paschalis Terzis (traditional music). Each artist and groups (Encardia) sing carols according to their own birth origin. Giorgos Dalaras performs the most popular "Archiminia kai Archichronia" as the opening track of the album.
The "essence" of different sounds and customs throughout Greece, is vastly offered to the audience in this particular album. Estoudiantina and Andreas Katsigiannis succeed, once more, in keeping Greek traditional sounds alive up to nowadays.
Estoudiantina's soloists performing in this album are: Dimos Vouioukas, Kyriakos Gouventas, Giannis Karamaniolas, Stavros Kouskouridas, Kostas Meretakis, Theodoros Mermigas, Nikos Mermigas and Nikos Baipas.