SMYRNE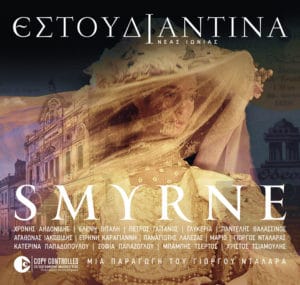 Estoudiantina's first official album, released by EMI in 2003. The most popular album of the eminent group. Estoudiantina's successful approach to Asia Minor's music history
TRIBUTE TO ASIA MINOR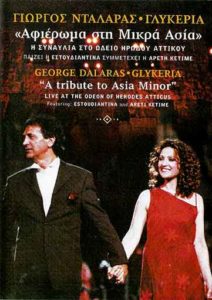 In June 2003, The Athens Festival presented Giorgos Dalara's "Tribute to Asia Minor" at Herodion Ancient Theater. Directed by Panos Papadopoulos and participated by Glykeria, Areti Ketime, Andreas Katsigianni's Estoudiantina group and the Volos Music School Children Choir, the performance achieved excellent reviews and was released in DVD version as well. A concert dedicated to Asia Minor with songs that originate from Istanbul and Smyrna emitting nostalgia, culture, remembrance, happiness and sorrow. A wondrous trip through the lives of those who inspired the dawning of Greek songs. An imaginary journey through the paths of Asia Minor.
The instrumental development was conducted by Kostas Ganoselis while the tracks' instrumentation resulted from the co-operation of Giorgos Dalaras and Andreas Katsigiannis. The concert was sound-engineered by Evangelos Koulouris, edited by Themis Lemonidis and directed by Panos Papadopoulos and Giannis Marakis (FS Productions).
TEARS ON THE GLASS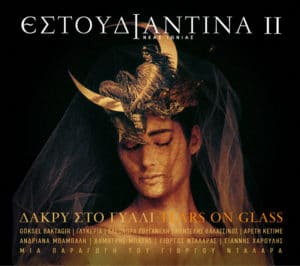 This is Estoudiantina's second album with Giorgos Dalaras being the producer, instrumentalist and singing performer. Other performers in the album are: Giannis Charoulis, Eleonora Zouganeli, Pantelis Thalassinos, Adrianna Babali, Dimitris Basis, Glykeria and Areti ketime. Soloist: Goksel Baktagir.
WHAT A GREAT DANCE – FEST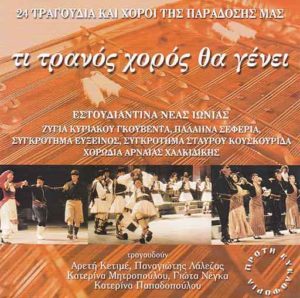 The album includes 24 traditional songs from continental Greece, Thessalia, Thrace, Propontis, Smyrna, the coastal areas of Asia Minor, the Dodecanese and the Peloponnese.
Artists performing are: Areti Ketime, Panagiotis Lalezas, Katerina Mhtropoulou, Giota Nega and Katerina Papadopoulou.
A collaboration between Estoudiantina, Kyriakos Gouventa's "Zygia", "Palaina Seferia", the "Efxeinos Pontos" group, Stavros Kouskourida's group and the Arnaia Choir of Chalkidiki.
Released by DIFONO on March 2005.
Κυκλοφόρησε από το περιοδικό ΔΙΦΩΝΟ τον Μάρτιο του 2005.
''FLOGA''
A live recorded production presenting the Concert of Estoudiantina with the Odessa Music Academy Folklore Orchestra and the "Ellada" Choir of the "Hellenic Foundation for Culture-Odessa". The concert was conducted at the Volos Public Theatre on 28 of April 2004 and was released by D.E.M.KA of New Ionia in 2006.
Apart from the "Ellada" Choir of the "Hellenic Foundation for Culture-Odessa" and the participation of the soprano Vera Revenko, Babis Tsertos and Andreas Katsigiannis performed songs as well.
The conductors of the Odessa Folklore Orchestra were Alexandr Oleinik and Igor Tsernetsky.
This production was also released by Legend, titled "Floga".
MARE NOSTRUM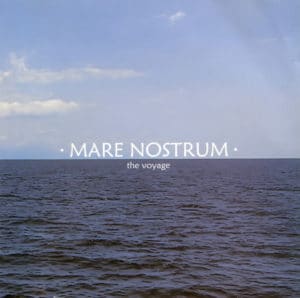 Estoudiantina's album released on the occasion of the "Mediterranean Games 2013 Anthem", composed by Andreas katsigiannis. The album includes music and songs deriving from the Mediterranean and the Balkans.
AERIAL VOICES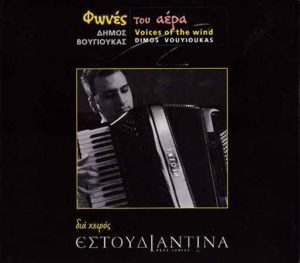 The accordion player Dimos Bougioukas collaborate with Estoudiantina  performing Balkan and meditteranian music.
THE DRUG SONGS (ILLEGAL SUBSTANCES)
A double album including approximately 50 tracks all live-recorded from Giorgos Dalaras and Estoudiantina concert at the Odeon of Herodes Atticus in 2007. The concert was largely participated by eminent artists such as Stellios Vamvakaris, Christos Thivaios, Babis Tsertos, Zacharias Karounis, Chara Kefala, Nina Lotsari, Themis Tsermes, Aspasia Stratigou and Martha Fritzila.
Instrumentation: Giorgos Dalaras & Andreas Katsigiannis
TUNES & SONGS OF OUR OWN EAST
The album is a compilation of Estoudiantina's several recordings (live concerts, rehearsals and TV productions). However, the final sonic product lacks identity and soul since the recording was conducted in an unprofessional manner.
Christmas carols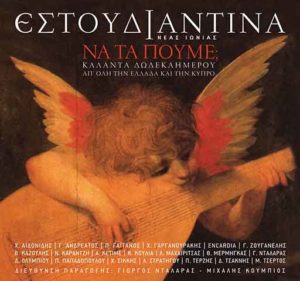 Christmas carols from all over Greece, in an album produced by Michalis Koubios and Giorgos Dalaras that was released by VETO in 2009. Estoudiantina presents 17 Christmas carols, all deriving from different areas of Greece. Numerous distinguished artists from various music backgrounds perform disinterestedly in this album. Chronis Aidonidis, Charalabos Garganourakhs, Areti Ketime (folk music), Babis Tsertos (rebetiko), Lavrentis Machairitsas and Dionisis Tsaknis (rock music), Gerasimos Andreatos and Giannis Zouganelis (entechno), Pitsa Papadopoulou, Paschalis Terzis (traditional music). Each artist and groups (Encardia) sing carols according to their own birth origin. Giorgos Dalaras performs the most popular "Archiminia kai Archichronia" as the opening track of the album.
The "essence" of different sounds and customs throughout Greece, is vastly offered to the audience in this particular album. Estoudiantina and Andreas Katsigiannis succeed, once more, in keeping Greek traditional sounds alive up to nowadays.
Estoudiantina's soloists performing in this album are: Dimos Vouioukas, Kyriakos Gouventas, Giannis Karamaniolas, Stavros Kouskouridas, Kostas Meretakis, Theodoros Mermigas, Nikos Mermigas and Nikos Baipas.
THE VIOLIN'S SOUL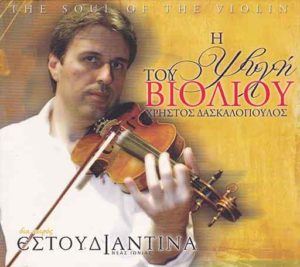 The distinguished violinist and Estoudiantina member Christos Daskalopoulos is the leading performer in this album. The sound of the violin accompanied by part or the Estoudiantina group as a whole, gives the audience the chance to admire the soloist's virtuosity and wander about the musical dialogues established between Estoudiantina and Christos Daskalopoulos.
This is the second album of the Estoudiantina group titled "Δια χειρός".
10 YEARS OF ESTOUDIANTINA
On the occasion of ten years since the Estoudiantina inception, this selection consists of instrumental tracks from both live appearances and official recordings of the group, released for the first time by "Thessalia"  newspaper.
SMYRNA OF LOVE
A collaboration between  Estoudiantina and Giannis Kotsiras along with the participation of Babis Tsertos, Aspasia Stratigou and Theodoros Mermigas.
On the occasion of 90 years since the Great Fire of Smyrna, Giannis Kotsiras and Estoudiantina produce the album "SMYRNA OF LOVE".
The album's repertoire consists of songs, from Istanbul and Smyrna, deriving from the 1920's decade and reaching the 2nd World War era. These songs gave birth to "Rebetico" introducing eminent composers such as  Kostas Skarvelis, Dimitris Semsis, Panagiotis Tountas, Spiros Peristeris, Nikos Roubanis, Giannis Dragatsis or Ogdontakis, Giannis Ntalgas, Kostas Kofiniotis, Apostolos Chatzichristos and various other unknown composers.
The album approaches a modern version of Smyrna love songs performed by Giannis Kotsiras and Estoudiantina, paying great respect to their original composers.
Saint Lazarus
The album "Saint Lazarus" includes carols dedicated to the Patron Saint Lazarus of Larnaca, one of Christ's companions, as well as traditional carols from numerous parts of Greece.
The artists that participate in this album are Kostas Makedonas, Petros Gaitanos, Dimitris Basis, Melina Aslanidou, Lydia Servou and Spiros Lambrou Children Choir.
The album's release was integrated in the participation of Larnaca Municipality  to the 40 year celebration of the Metropolitan Chrysostomus of Kitio. The production manager is Giorgos Theofanous while the album was also released in Russia.
Instrumentation: Andreas Katsigiannis
THE ROLE OF POETRY IN MUSIC & FOLK COMPOSERS
A live recorded concert of Estoudiantina with Babis Tsertos, Andreas Katsigiannis, Apostolos Mosios and Eleanna Varela, conducted at the Nea Ionia Culture Centre Theatre in Magnesia. The concert's first part consists of poems music composed by Andreas Katsigiannis whereas the second part presents the output of several Greek composers in poetry music. An honourable mention to folk composers is also given in this production.
The concert's album was released by "Thessalia" newspaper while all profits were offered to charities.
"Music is a major relief for Greek people. Through music they express their thoughts for tomorrow, their joy and their sorrow. Thus Greek music composers had always been inspired by people's anxieties, elation and grief, since they comprehend the fact that it is only through people and societies that they can find their place in the world."
" EIKONA ACHIROPOIHTH"
Music based on Alexandros Papadiamanti's poems and couplets.
During all these years that I have been composing the music for theatrical plays based on Alexandros Papadiamanti's several narratives, his work always left me with a feeling of "Achiropoiito", meaning something not made by humans. Alexandros Papadiamantis had been enchanted by Greek traditional myths and legends. He is considered as one of the most distinguished narrators internationally.
The artists performing are:
Nena Venetsianou, Glykeria,Giorgos Dalaras, Babis Tsertos, Areti Ketime, Aspasia Stratigou, Vasilis Saleas and Ilias Katsoulis with one of his poems.
ΙZMIR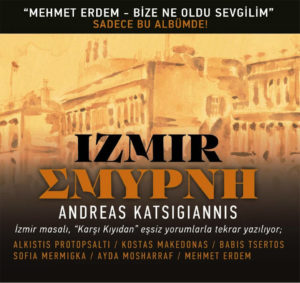 The new production signed by the eminent composer and Estoudiantina's founder and director, Andreas Katsigiannis.
The album comprises instrumentals that carry away the audience as well as original songs written by Evanthia Magni, Kostas Makedonas and Stavros Stavrou.
In addition, Alkistis Protopsalti gives an enthralling performance to Mimi Denisi's "FOS" song.
The album is also participated by the performances of Kostas Makedonas, Babis Tsertos, Sofia Mermhga, Mehmet Erdem and Ayda Mosharraf.